Software Outsourcing in Eastern Europe
Software corporation in the European Union and across the globe have found an attractive advantage in partnering with software development companies in the Eastern Europe. They mostly appreciate the unbeatable balance between quality results and project budget, empowered by the access to state-of-the-art technologies and flexibility in personnel recruiting.
  Romania – top favored software outsourcing destination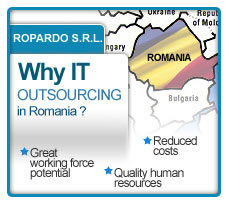 In the context above, Romanian companies are the ideal providers of nearshore / offshore software outsourcing both in terms of custom software development and maintenance & support services. International experts rank Romania as a top favored software outsourcing destination. This is due to dynamic small and medium enterprises specialized in software development and highly qualified human resources.
The Romanian IT industry that has been growing at fast pace for 20 years, and is now stable and substantiate. It is shown in the report "Software and IT Services in Romania – Current Situation and Outlook in a Local and Global Environment in 2015", conducted by Pierre Audoin Consultants, that "the Software and Services Industry is one of the best that Romania currently has given with a growth rate 4 times higher than that estimated for the entire economy. In 2014, ITC industry recorded the largest share in GDP so far – 6, of which 2.5 is generated by software and services." This study indicates that growth trends, especially for export, are solid and are not based on fleeting opportunities."
This is a logical consequence of the 5000+ engineers and computer science graduates of the 40+ technical universities in Romania.
"Better than India"
Offshore Romania, a 2015 report by the same Pierre Audoin Consultants (PAC) presents Romania as the ideal outsourcing alternative to India, due to the highly competitive costs and the rich supply of IT specialists with excellent technical and linguistic skills.
  Advantages of Outsourcing in Romania
As a nearshore software development destination, Romania is particularly attractive for European small and medium enterprises (from Germany, France, the United Kingdom, Italy and so on) who wish to outsource custom software development. Companies choose Romania as nearshoring / offshoring destination because:
up to 75% cost cuts compared with similar resources from Western countries
Romania has become EU member on January 1st 2007, making it easier and safer to work with Romanian software companies
Romania has a reservoir of creative and rigorous specialists, with solid language skills and experience in international team and custom software development projects
Romania has a European culture and civilization
nearshore development in Romania means just one-hour time difference from Central Europe and two hours' time difference from GMT
Romania is a few hours' flight from Europe
Romania is the ideal destination for nearshore / offshore software development
Sibiu – center of Romania
Sibiu has a significant IT movement mainly because of the two universities, internationally acknowledged for talented and well prepared engineers.

"Lucian Blaga" University reunites 20 faculties and more than 43.000 students. The two IT specialized faculties inside the university are the Faculty of Computer Science, and Faculty of Informatics.
Sibiu can be easily reached by plane (the international airport has good links with Bucharest, Munich, Timisoara, Milan, London, Rome etc.), by car or by train.