Quality model: checkups every step of the way
We are all aware that quality assurance is crucial on a competitive market as that of nearshore custom software development. For which reason, Q&A is in each and every process and activity of the phases in the software development lifecycle specific to nearshore / offshore software outsourcing: analysis, design, development, testing, preparing documentation, installing, training, maintenance and support.
Nearshore-Romania Quality Pillars
We have developed a reliable model to ensure quality at every stage of the software development nearshore / offshore life cycle.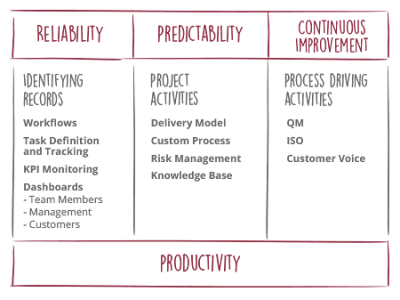 Identifying records
Our whole project tracking and control strategy is based on the digitization of our processes in their entirety. Digitized processes and modern tools enable real time tracking of metrics, SLA compliance, and efficiency. This provides full-cycle visibility, delivering total control and real time information of our processes, and the services we deliver to our clients.
Project activities
In our quality assurance strategy is that all projects are managed according to Agile methodology completed by others specific methods (Prince 2, RUP) if the project requires so. Our developers use Quality Manuals and Coding Standards tracking defects at every stage of the software development life cycle.
Process driving activities
According to our methodology, quality considerations begin with setting the client's and user's quality expectations.
Our organization takes care of all business activities and for that we follow ISO procedures to ensure:
modern infrastructure suited for its activities
processes, performance and integrity criteria
technical and managerial skills
team spirit and excellent-oriented organizational culture.
Project management in nearshore software development
Project understanding and setting up quality standards before the start of the actual development is essential for success in nearshore / offshore development outsourcing.
All project management activities in nearshore / offshore software development outsourcing are conducted according to project management methodologies and the PDCA (plan-do-check-act) principle.
Learn more on Nearshore-Romania development processes